Autumn Videos
Fall Aspen Leaves
Colorado Rocky Mountains
Beautiful Aspen Grove
Fall Foliage

Pretty autumn scenery in the Rocky Mountains. Steve explored aspens groves near his home two times in one day and offered his six best fall foliage photos ... View Photos
---
Early Autumn Photos 2009


It is that time of the year! The autumn color show begins early in the highest regions of Colorado's Rocky Mountains ... View Photos
---
Autumn In Wisconsin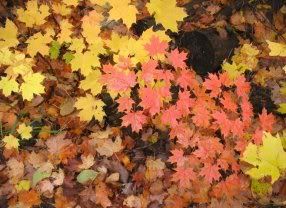 Photos of fall foliage in north central Wisconsin near Timms Hill, the state's high point ... View Photos
---
October Fall Foliage

Some nifty fall colors in Chalk Creek Canyon. The highlight was standing in a huge aspen grove and looking up with camera ... View Photos
---
Around Aspen, Colorado

Elana and I spent the day wandering around Aspen, Colorado and enjoyed some great fall foliage ... View Photos
---
Pretty Autumn Road

This particular photo of a quiet dirt road has received some of the most positive feedback among friends ... View Photo
---
Countryside Fall Foliage

I ventured along an area leading to Monarch Pass and came up with some decent fall foliage photos ... View Photos
---
October 2nd Foliage

Bright yellow aspens, a colorful mountain stream and cottonwoods along Mt. Princeton make today's photos ... View Photos
---
This Morning's Fall Foliage

Enjoy this morning's fall foliage of bright aspens in Colorado. The "ground foliage" shot is pretty nice too ... View Photos
---
Sunny September Day

A midday drive in Colorado's mountains offering some great opportunities for fall foliage viewing ... View Photos
---
"Fire And Ice" Foliage Tour

This morning I visited a pristine area that enjoyed beautiful fall colors and a snowstorm at the same time ... View Photos
---
Autumn Is Coming Along!

The fall foliage show is coming along quite nicely as seen from these two adventures ... View Photos
---
Monarch Pass Region

Fall colors are really showing near the Continental Divide in Colorado's Monarch Pass region ... View Photos
---
Autumn Snowstorm Adventure

I merely wanted to capture some fall foliage (and did), but not before getting caught up in a snowstorm ... View Photos
---
Lots Of Orange Foliage

There was a lot of orange foliage to view near the quaint ghost town of St. Elmo, Colorado ... View Photos
---
A Walk In The Mountains

I went for a walk on the Denny Creek Trail in Colorado and here are my fall foliage photos for the day ... View Photos
---
Rocky Mountain Foliage

The Rocky Mountains are beginning to show some really beautiful autumn colors. Here are some photos from September 9-10 ... View Photos
---
Late August Fall Colors

Autumn is starting to show some color in Colorado's high country, even though it's late August ... View Photos
---
Golden & Yellow Aspens


Beautiful shimmering aspens in shades of yellow and gold were the highlight of this autumn viewing excursion ... View Photos
---
Colorful Colorado Jeep Road

A jeep road in Colorado's high country displays some beautiful autumn colors on the tail end of the viewing season ... View Picture
---
One Last Remaining Aspen!

Steve in Colorado submitted this photo of "one last remaining aspen" that was showing off some fall colors ... View Picture
---
Fall Foliage Near Bonanza, CO

The region near Villa Grove and Bonanza, Colorado in Saguache County has some great spots for fall foliage viewing ... View Pictures
---
Orange Leaves Macrophotography

Kelly Comstock is a photographer with an impressive collection of fall foliage photos. She submitted a shot of bright orange leaves ... Read More
---
Autumn Berries In Norway

Tonje in Norway displays two of her photos of berries with colorful red leaves that she found in the northern country ... View Pictures
---
Fall Foliage In Wilkerson Pass

Wilkerson Pass offers beautiful views of Colorado's Rocky Mountains, but for about one month of the year, its large aspen groves light up in beautiful fall colors ... View Pictures
---
Beautiful Autumn Leaves

Enjoy this picture collection of autumn leaves in Colorado. The fiery orange and red shades of this particular leaf caught the eye of ... View Pictures
---
Photo Collection Of Pumpkins

Beautiful pumpkins! There's something about wandering through a colorful pumpkin patch filled with all different shades of oranges ... View Pictures
New Hampshire Foliage

Linda Difino shows off some of her nicer New Hampshire fall foliage pictures. Northern New England is a wonderful place for ... View Pictures
---
Colorado's Aspens

This picture collection displays bright and colorful aspens taken at their respective peak season throughout central Colorado ... View Pictures
---
Vicksburg & Winfield

Vicksburg and Winfield were once bustling mining towns in the late 1800's. These "ghost towns" have been largely abandoned and I captured some great fall foliage shots ... View Pictures
Fall Foliage Archives:
Autumn Colors In The Mountains
Yellow Aspens

Fire And Ice

Autumn Yard

Three Pumpkins

Cottonwood Lake

Snow & Autumn Leaves

Hoosier Pass Region

Orange & Green Leaves



Birch Orange And Red



Teller County, Colorado



Manitou Springs



Marshy Creek



Cottonwood Pass Road



Cottonwood Lake



Bright Yellow Trees



Pikes Peak



Turning Leaves In June?!



Orange Leaves

Recommended Books
On the first day of October, leaf peepers and fall foliage tours are happening in earnest around Colorado. Enjoy eight photos and two videos of beautiful fall colors.
View all: Fall Colors
Trees with colorful leaves. That's what this season is all about! Enjoy eight photos and two videos on a virtual fall foliage tour by Steve Garufi.
View all: Trees Fall Leaves
If you love aspen groves, with their shimmering yellow leaves, you will probably love some of these photos and videos. The leaf peeping is excellent right now!
View all: Fall Colors
Today I wandered inside scenic Chalk Creek Canyon in Chaffee County, Colorado. So many aspen groves are bright and filled with shimmering yellow leaves. Enjoy my five videos and four photos.
View all: Fall Foliage Season
Steve Garufi takes us along on another fall foliage tour in the Colorado Rocky Mountains. Six photos and two videos capture pretty autumn scenery.
View all: Fall Colors Tour
Another wandering in the forest west of Buena Vista, Colorado. I came upon two aspen groves that have begun to change. The fall foliage season is still early, but I think you'll like my photos and videos nonetheless.
View all: Fall Foliage & Scenery
10 photos and 2 videos of autumn leaves and fall colors in the San Isabel National Forest in Colorado.
View all photos: Autumn Leaves
11 photos of fall scenery taken at the Weller Campground near Aspen, Colorado. The aspen groves are bright with yellow and orange leaves throughout the area.
View photo gallery: Fall Images
Beautiful fall leaves photographed on an October Saturday morning by Steve Garufi.
View photo gallery: Fall Leaves
Steve's early morning visit to autumn trees in the mountains lands him five excellent fall foliage photos.
View photo gallery: Autumn Trees
Seven fall colors images in the Colorado Rocky Mountains.
View photo gallery: Autumn Leaves
Eight photos of colorful autumn leaves including aspen groves at Kenosha Pass, located 75 miles west of Denver, Colorado.
View photo gallery: Autumn Leaves
I drove along a quiet dirt road in the mountains near Fairplay, Colorado. I captured various fall scenery photos and found a large aspen grove to relax in.
View photo gallery: Fall Scenery Photos


The St. Elmo Ghost Town was once a bustling mining town in the early 20th century. The fall scenery was beautiful during our Saturday visit.

View the entire photo gallery here: St. Elmo Autumn Foliage Viewing
Winter and autumn duked it out this morning in the Sawatch Range of Colorado. A layer of pretty white snow covered the ground which made the fall foliage viewing stand out. As it became warmer, fall won out but it was hardly convincing victory.
View entire photo gallery: Two Days of Fall Scenery
I lucked out when I spotted this beautiful autumn color scene along the Arkansas River in Colorado. Over two evenings, I collected my best fall foliage photos for the latest update.
View entire photo gallery: Two Days of Autumn Foliage
Saturday morning was enjoyed with a visit to an elegant and peaceful dirt road in Lost Canyon, Colorado. Plenty of stunning autumn folige exist among the large aspen groves beside the road.
View entire photo gallery: Fall Foliage In Lost Canyon, CO
Welcome to Autumn Pictures!

Autumn Pictures is a website where fall foliage seekers, autumn photographers and others can enjoy the autumn season all year around. If you have always had a soft spot in your heart for fall scenery, you've come to the right place! :)
Discuss fall foliage adventures, share the peak times for viewing colorful autumn leaves in your area, submit your own autumn photographs to this web site, or simply surf and get lost in our beautiful autumn pictures. Please visit the Autumn Colors Forum and to comment.
This website is run by Steve Garufi in the Rocky Mountains of Colorado. Most (but not all) of the photos are taken by him. You are welcome to stay connected on Facebook.

Other Photography Websites: